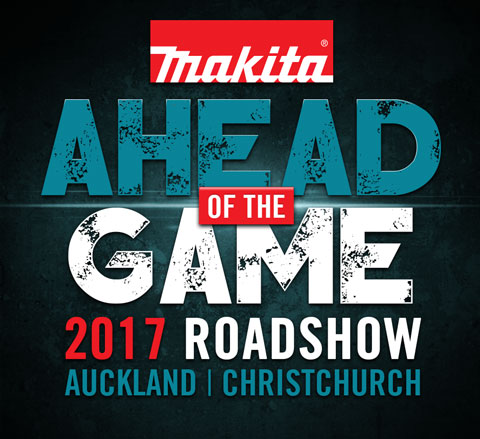 11 MAY
4:30PM - 7:00PM
Hall 6
ASB Showgrounds
Auckland
1 JUNE
4:30PM - 7:00PM
Airforce Museum
Wigram
Christchurch
COME AND TEST DRIVE THE LATEST NEW MAKITA PRODUCTS, AND CHECK OUT GAME-CHANGING INNOVATIONS
LOADS OF MAKITA PRIZES AND GIVEAWAYS TO BE WON!
JOIN US AND YOU'LL GET A FREE MAKITA BATTERY!
FOOD AND BEVERAGES PROVIDED
IT'S THE POWER TOOL EVENT OF THE YEAR, SO DON'T MISS IT!
WE INVITE YOU TO JOIN US AS WE DEMONSTRATE THE LATEST AND GREATEST MAKITA INDUSTRIAL QUALITY POWER TOOLS - CREATING NEW INDUSTRY STANDARDS THAT HELP TRADIES STAY AHEAD OF THE GAME.
JOIN US AND YOU'LL GET A MAKITA BATTERY FREE! ALL YOU NEED TO DO IS ARRIVE BEFORE 4.30, AND PARTICIPATE IN ALL HANDS-ON ACTIVITIES, IT'S THAT SIMPLE.
PLUS, YOUR NAME WILL BE IN EACH DRAW TO WIN MAKITA PRIZES AND GIVEAWAYS.
DID YOU KNOW?
MAKITA HAS THE WORLD'S LARGEST CORDLESS TOOL LINE-UP POWERED BY AN 18V SLIDE-STYLE BATTERY.