CXT™ is the next generation in 12 Volt cordless tools. 12Vmax CXT™ gives users a more compact solution with more comfort and more capacity. The slide style lithium-ion batteries provide superior ergonomics and comfort, and allow go-to tools like the impact driver and drills to stand up on their own for added convenience. Select 12Vmax CXT™ tools are equipped with efficient brushless motors for longer run time, increased power and speed, and longer tool life. For even longer run time, the expanding 12Vmax CXT™ platform includes an efficient 4.0Ah battery.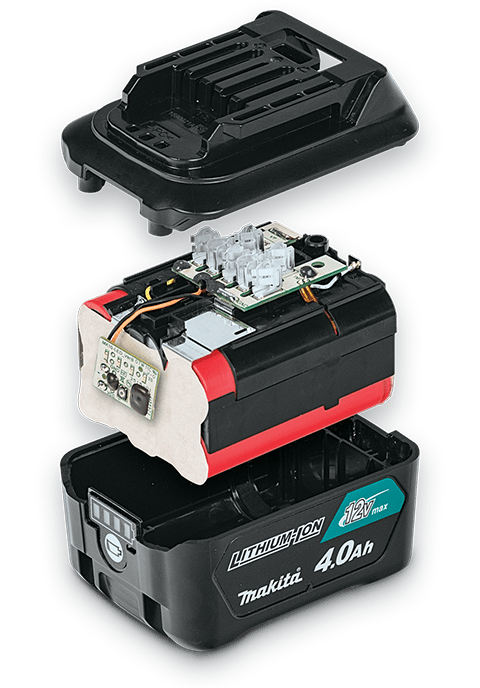 The 12Vmax CXT range integrates superb machine power performance into the smallest possible machine profile.
Multi-contact slide batteries with high capacity cells.
The 12Vmax CXT Lithium-Ion slide battery, similar to the market-leading 18v Li-Ion battery used in the heavier LXT range, has multi-contact terminals to ensure stable contact even under extreme work vibration conditions. The slide battery fits easily into the tools and chargers and has the same high level of structural strength, as well as having in-built protection to prevent overload or over-discharging.
Small and versatile
CXT Back LED Gauge Display
Battery LED fuel gauge indicator
Higher battery capacity
Individual cell monitoring
Protection circuitry
Low-temperature performance
Both 2.0Ah and 4.0Ah batteries are available for the 12Vmax CXT range. These slide batteries have protection overload circuitry, will operate down to -20°C and have a 4-stage LED fuel gauge indicator. The DC10SA charger has a fan cooling system that puts charging time to just 30 minutes for the 2.0Ah battery.
The latest 12Vmax CXT slide battery range will continue the expansion of this sector of the Makita range where the power and manoeuvrability of these precision tools have seen sales grow continuously.
Makita power tools are available from all great tool shops around New Zealand.
Makita Dealers are retail outlets that stock a wide range of Makita tools while OPE Dealers specialise in the Outdoor Power Equipment range.
Makita Central's are specialist Makita stockists with a complete range of Makita products.