Tool Belts & Tool Storage
Makita's new and improved collection of belts and pouches to its extensive and popular range of accessories. The newly designed range makes it even easier for tradespeople to safely and easily store and transport their tools and accessories. The collection includes belts, braces, pouches, holders, bags, cases, gear and equipment, and offers users the durability and reliability needed for everyday use.

Strap Belt System
with quick release buckles at the ends can be easily detached from the Tool Bags and worn on the waist as a light duty tool belt. Fits all Tool Pouches and Holders as well as Tool Organizers.

Heavy Load Support System
provides additional support for Super Heavyweight Tool Belt and Set by distributing weight between waist and shoulders. Comfortable to wear and reducing stress through the working day thanks to extra thick 20mm cushioning.

Tool Loops System
an innovative plastic tool rail. Allows user to place different tools in loops without adjusting. High quality material ensures longlasting quality and durability. Combination of different sizes of loops, single or twin row system lets you easily place bigger or smaller tools into the right loops.

Backpack Carrying System
keeps shoulder straps of your backpack securely in place, and keeps your hands free. It's designed to shift the pressure and reduces fatigue on your shoulders. Includes a slide lock so it can be adjusted quickly.

Waterproof Bottom
a high quality solution for tool bags - rigid, wear resistant and waterproof it keeps tools dry and protected from damp and wet surfaces. The reinforced plastic base also helps you to keep your tool bag clean.

Anti-Slip Solution
minimises or even avoids workplace slip and fall accidents. The high quality polypropylene tape has a rubbery surface which helps to keep you tools in place and provides additional protection to help prolong the life of your products.

3 Layer Technology
a unique 3 layer combination of polyesters and foam that provides extra cushioning. Designed to be tough and weatherproof, these amazingly light polypropylene panels are made up of three composite layers joined securely in a desirable configuration. The innovative feature of these structured core panels means that they can be formed into any shape.

Durable Riveting
gives truly unbreakable strength. Strong one piece self punching rivets with washers used in all high stress areas. Washers for greater strength in strategical places are used on one or both sides, up and down.

Loop Clip Solution
an innovative system thanks to which, each pouch can be easily but securely attached to your belt. Unique locking system protects item from fall out when system is not attached correctly. Locking and unlocking has never been so easy.

Elastic Loops
secures the contents and keeps your tools in place while carrying. It provides great flexibility for organizing your tools and accessories. Elastic Loops have been applied to a wide variety of our products to ensure that you get maximum usage from your kit. The loops are able to adapt to perfectly suit all tools and accessories.

Side Gate Solution
lets you easily put the tool in without looking at the holder. An additional swing feature ensures your tool is kept at a comfortable angle. Made of stainless steel for product longevity and fixed by four rivets for extra strength.

Belt Loop Holder
a heavy duty combination of steel D ring with strong polyester tape to hang anything with carabiner. It keeps the item secure, allowing your pocket to be free for other accessories. Belt loop holder solidly slides onto the belt and stays there. You can use as many loops as needed - handy to hook on small accessories, knives and keys.

Rail Guide System
an extremely flexible organizational system in your case. A perfect combination of plastic side rails and light separating walls allowing the customisation of individual compartments. The separating walls are made of Triplex - an amazingly light polypropylene of 3 layer structured core panels. Each separator can be moved along rails assembled on side walls.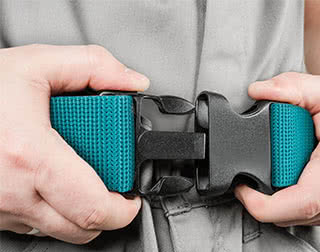 Belts & Braces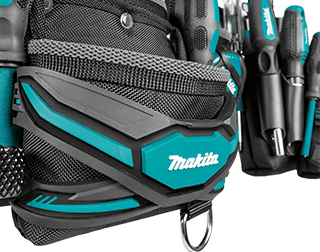 Pouches & Holders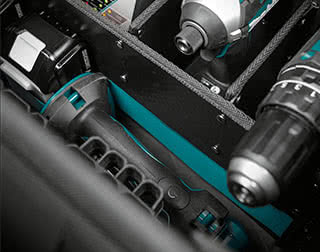 Bags & Cases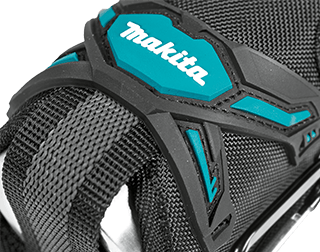 Gear & Equipment
Makita power tools are available from all great tool shops around New Zealand.
Makita Dealers are retail outlets that stock a wide range of Makita tools while OPE Dealers specialise in the Outdoor Power Equipment range.
Makita Central's are specialist Makita stockists with a complete range of Makita products.