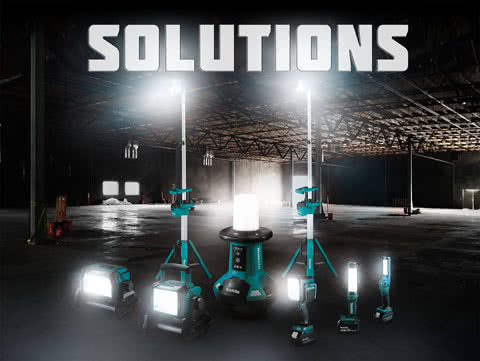 Discover the world's largest professional cordless outdoor power equipment system. Makita Cordless Outdoor Power Equipment is a complete system that will let you rule the outdoors. Get the job done with lawn mowers, string trimmers, blowers, chain saws, hedge trimmers, and other tools, offering lower noise, reduced maintenance and zero emissions. If you are ready to experience new levels of efficiency and productivity, then the time is now to explore Makita's cordless power equipment.
Discover new levels of convenience, efficiency, and productivity with Makita Cordless Cleaning and Facilities Maintenance Products. Cover more space in less time and increase productivity with Makita's wide range of cordless products. With backpack vacuums, commercial compact vacuums, canister vacuums, industrial robotic vacuums, blowers and accessories, Makita provides a solution for a variety of applications, in one cordless system, so that users can get the job done.
Today there is new demand for more solutions to reduce dust on the job site. Makita has an expanding dust extraction system with vacuums, accessories and attachments for use in concrete drilling, breaking, surfacing and cutting applications and provides the options you need to build a compliant system for your job site, even without a power source. If you are near a power source, plug in with Makita corded dust extractors that combine top performance metrics with lower noise, less weight, and longer service life.
Increase visibility and productivity on job sites with Makita's expanding line of L.E.D. lighting products. From handy flashlights to tall tower work lights, Makita offers the durable task lighting needed for demanding conditions. Each work light features dust and water-resistant construction for continued operation. Makita Lighting Products provide mobility within workspaces and bright, even illumination that help get the job done.
4 key components make up the LXT Advantage, providing you with the most advanced, durable and dependable 18V products on the market. Our fast-charging LXT batteries, Rapid Optimum Charger, industry-leading brushless motors, and Star Protection Computer Controls work together to create the LXT Advantage. Makita's Cordless Outdoor Power Equipment delivers unmatched performance and innovation in motor and battery technology that's leaving the competition behind.
XGT is a genuine solution for high demand Industrial applications, A combination of innovative tool design and higher output batteries, the XGT range of tools and batteries come with a built-in program, providing digital communication between the battery and tool providing Makita XGT a foundation to adapt to even higher technology advances in the future. XGT is built tough. The batteries are designed to include impact absorbing padding and a heavy-duty outer casing and the tools have been built with added housing and battery terminal strength.
Accessory solutions
Makita's s range of accessory solutions include Impact X - high quailty bits, Efficut blades, Nemesis II bits and a range of Makita quality bags and holders