Deep Cutting
3-Stage reduction gear unit and Movable rear blade guard provide larger capacities of cutting Crown moulding and skirting board.

Capable of diagonal cutting up to 168mm crown moulding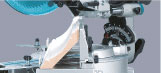 Capable of vertical cutting up to 120mm skirting board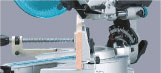 Exact Cutting
Double sliding mechanism
Makita advantages obtained by using 4 short steel poles instead of 2 long poles are;
Vibration-free, precise and exact cutting
Compact tool design for jobsite portability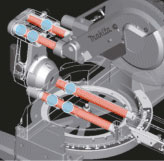 6 linear ball bearings are used to support the 4 poles for smooth and precise sliding cut.
Double sliding guide fence
The upper and the lower sections slide independently for added convenience; each upper fence slides outwards for bevel cut, and each lower fence slide inwards to securely hold small workpiece for precise and exact cutting.
Overall height 120mm